I've been writing about the value of knowing your strengths at work so you can get more out of your career. If you haven't taken a strengths assessment yet, do so now. You can find strengths assessments online.
The Gallup Organization identified 34 distinct personal strengths after interviewing 1.7 million professionals over 40 years: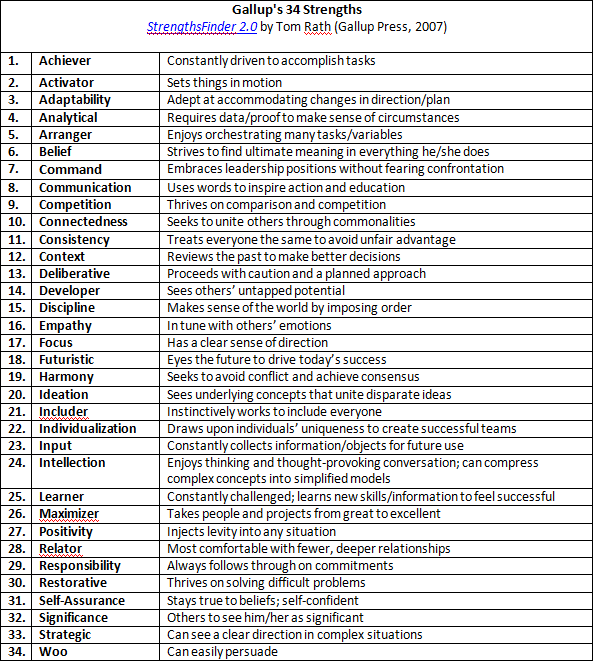 Each of these strengths contributes to the four leadership domains of executing, influencing, building relationships, and thinking strategically.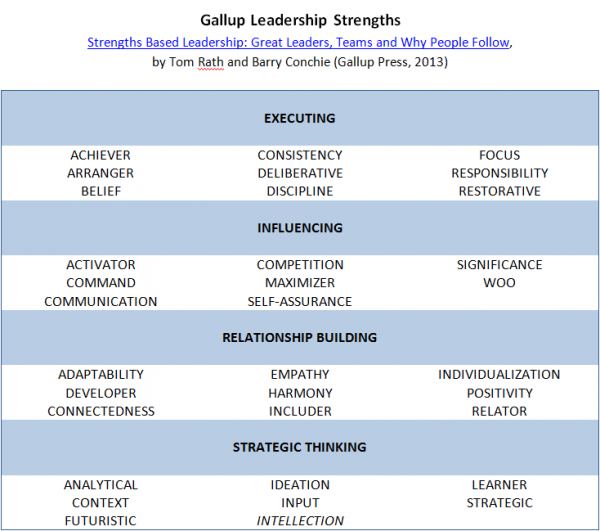 In Strengths Based Leadership: Great Leaders, Teams, and Why People Follow, New York Times-bestselling author Tom Rath and leadership consultant Barry Conchie reveal extensive Gallup research. Based on their analyses, three keys to effective leadership emerge:
Know your strengths—and invest in others' strengths. The most effective leaders continuously invest in strengths.
Hire people with the right strengths for your team. The most effective leaders surround themselves with the right people and maximize their team.
Understand and meet your followers' four basic needs: trust, compassion, stability and hope. The most effective leaders understand their followers' needs.
The best leaders needn't be well rounded, but their teams are. Strong teams have a balance of strengths at work in four specific leadership domains:
Execution: Great leaders know how to make things happen. They work tirelessly to implement solutions and realize success.
Influence: Leaders help their teams reach a broader audience by selling ideas inside and outside the organization.
Relationship-Building: Leaders are the glue that holds a team together. They create an environment in which groups perform harmoniously for optimal results.
Strategic Thinking: Leaders keep everyone focused on the possibilities for a better future.
Growing Strengths at Work for the Future
"People have several times more potential for growth when they invest energy in developing their strengths instead of correcting their deficiencies." ~ Tom Rath
Many people fall into the trap of trying to "fix" their deficits and flaws instead of expanding their strengths.
Use the Gallup data to identify your talents and convert them into strengths. You can then increase your leadership effectiveness and build stronger, balanced teams.
Remember: Leaders stay true to who they are. They make sure they have the right people around them. Those who surround themselves with similar personalities will always be at a disadvantage, as they're too insecure to enlist partners and team members with complementary strengths.
What do you think about this strengths-based leadership approach to working with people? How will knowing your strengths change the way you work? Sometimes working with a coach can help. I'd love to hear from you. I can be reached here or on LinkedIn.